The Story Behind Dust Bowl Girls
Back in 1978, my grandmother, Lydia Babb Thomas, campaigned to get her older brother Sam inducted into the Jim Thorpe Memorial – Oklahoma Sports Hall of Fame. She made dozens of phone calls, wrote just as many letters, and ended up recruiting her own team of champions to help her win the day. That team included one of Sam's greatest players characterized in DUST BOWL GIRLS, Lucille Thurman Berry. Grandma stored this evidence for Sam in a plain manila folder that she eventually filed away.
The Jim Thorpe Commission informed my grandmother that Sam's outstanding accomplishments qualified him to become a member of the hall of fame. During her acceptance speech at the ceremony, she thanked the committee for "bestowing this honor on Samuel Foster Babb – one of the greatest coaches and persons that ever lived."  She truly loved her brother Sam.
Like Sam, my grandmother was a powerhouse. She was the most stubborn person I ever met. And the most generous. She had a loving presence that ignited a protective force field around those she cared about. She and my granddad started out teaching school, but eventually owned and operated movie theatres during a time when women weren't supposed to be in charge of anything.
I never met my great Uncle Sam, but several years ago, before my grandmother died, she handed me that same folder she had stored away containing the newspaper articles, letters, and photographs of Sam and the Cardinals.
"For safe-keeping," she said. "You might want to tell their story someday."
Those pieces of information contained in that yellowed folder, plus a photo of my grandmother wearing her favorite dress and receiving her brother's award, spurred on my curiosity. How did Sam come to deserve such admiration? Who were the Cardinal team members? What did Grandma know about this story that I needed to find out? The next thing, I picked up the phone and asked Dad and Mom if they wanted to go searching for a basketball team.
We travelled across Oklahoma, Texas, and Arkansas just like the Cardinals did in their Christmas barnstorm, except that we had a spacious air-conditioned car that glided along paved roads. Stuffed in their cramped, ancient crank-start bus, the Cardinals bumped along dirt and gravel roads filled with dust and sometimes gaping mud holes. When we began our journey, that part of the country had been in a drought for two years. The thirsty trees and withered-brown fields added to the desperate feeling of what it might have been like to live during Dust Bowl times.
We met with living players plus other players' relatives who loved talking about the Cardinals and their many adventures. They gladly shared scrapbooks, diaries, and other memories. Soon, we were falling head over heels for the team of scrappy farm-girl heroes and their tenacious basketball coach, my Uncle Sam.
I spent over two years conducting the additional research necessary to write this book and even more years writing and revising the manuscript. Remembering Grandma's forceful campaign to memorialize her brother – someone who fought for what he believed in – drove me to share this story about real-life heroes who didn't follow the rules, but pursued their dreams instead — inspiring thousands along the way.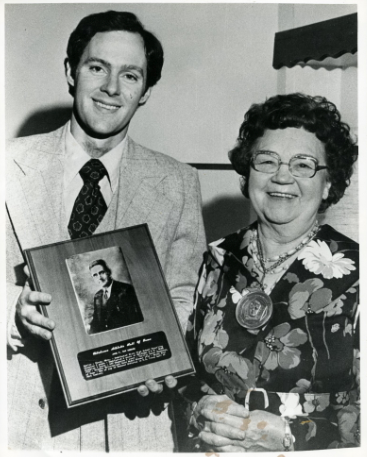 My grandmother, Lydia Babb Thomas, accepting her brother Sam's award for his induction into the Jim Thorpe Memorial — Oklahoma Sports Hall of Fame.